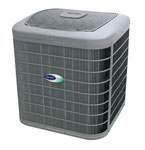 Carrier Air Conditioning is the largest manufacturer of air conditioners and heat pumps worldwide.
 Carrier air conditioning is recognized as a leader in engineering and product development in the air conditioning industry. As the world's largest manufacturer of air conditioners, heat pumps, and accessories, the Carrier product lineup is one of the most state of the art systems that you can place in your home.
Great financing options are available for Carrier air conditioning customers.
 Simply follow the instructions on the screen and you will be on your way to total home comfort with a new, energy efficient Carrier air conditioning system.
Ready to find out more about Carrier Financing?
Easy Approval Process, Get Started Now!